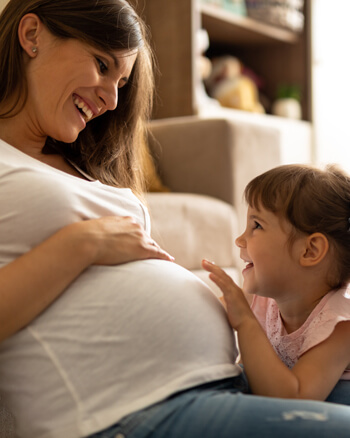 Pregnancy and Pediatric Chiropractic at
First Step Family Chiropractic
At First Step Family Chiropractic, we are a true family practice, offering outstanding chiropractic care for pregnant women as well as children, from newborns on up. We believe that pregnant women deserve a happy, healthy, pain-free pregnancy-and we're here to help them achieve it with advanced tools and techniques that keep them comfortable.
Dr. Tricia has earned her Certification by the Academy Council of Chiropractic Pediatrics (CACCP) in the International Chiropractic Pediatric Association's Certification program, making her not only experienced, but trusted when it comes to caring for moms and their little ones.
She can't wait to help determine what adjustment techniques will help you through a focused evaluation where you'll feel seen and heard, no matter what stage of life you are in.
NEW PATIENTS

The Benefits of Pregnancy Chiropractic
Your body undergoes tremendous changes during pregnancy, and chiropractic care may help improve your comfort level throughout this time by ensuring your spine and pelvis are positioned and moving properly.
Dr. Tricia has extensive training in pregnancy care and pediatrics, spending more than 200 hours learning from ICPA experts, including the Webster Technique. The Webster Technique is a specific chiropractic analysis and adjustment. The goal of the adjustment is to reduce the effects of subluxation and/or SI joint dysfunction. In so doing neurobiomechanical function in the sacral/pelvic region is improved.
According to research from the ICPA, chiropractic care for pregnant women may benefit things like: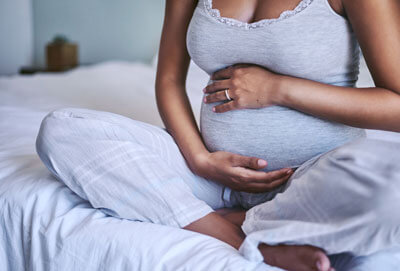 Labour and delivery – Chiropractic throughout pregnancy helps to ensure your hips and pelvis stay aligned, which is ideal for labour and delivery. Some women have even reported a quicker birth with less pain after being under chiropractic care.
Pain – It's no secret that during pregnancy, the body changes a great deal in a short time frame. Even though it's entirely natural, your joints and muscles are put under a great deal of stress that causes pain and discomfort as things stretch and shift. Gentle and focused adjustments help to correct any issues before the problem becomes chronic-it's our goal to keep you as comfortable as possible!
Pediatric Chiropractic Care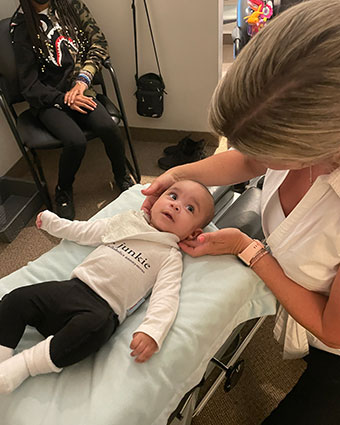 We know that you want the best for your baby-and so do we! At First Step Family Chiropractic, we believe that children deserve a strong start, and we hope to deliver exactly that with gentle, focused chiropractic adjustments.
Just like adults experience life's stressors, so do children of every age. While that stress might have different causes, at the end of the day, it still comes in the form of physical, environmental, and emotional factors. Those things can wreak havoc on a child's body-but the good news is, when properly addressed in a timely manner, kids bounce back very quickly.
Spinal stress in kids can manifest in a number of ways, including irritability, crying, colic, headaches, pains, delayed milestones, torticollis, movement problems, scoliosis, and more.
Benefits of Care for Kids
Adjustments for kids are much different than adults. We know their spine is delicate, and we treat it so. Dr. Tricia performs the gentlest possible adjustments for kids of every age. For infants, we often use the same amount of pressure you'd use to check the ripeness of a tomato. For older children, Thompson drop and Activator adjustments are gentle and effective. Kids love helping to adjust their parents or stuffies with our toy Activators or play with our adjustable dog, D.D. Bones.
Parents have reported a number of improvements in their children after undergoing care with us, including but not limited to:
Less stress
Improved wellbeing
Less irritability
Improved digestion
Better feeding or latching
Reduced colic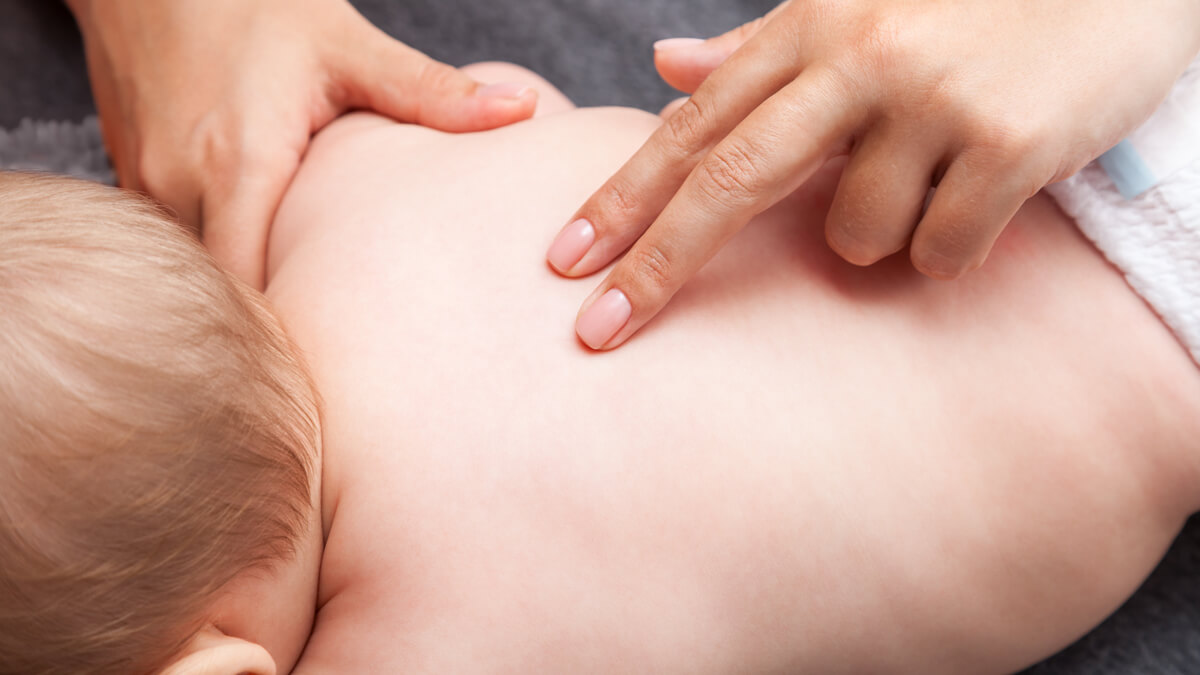 Helping Children Heal from Birth
In even the most ideal birth scenarios, birth trauma can lead to subluxations that affect your baby's nervous system. Left untreated, this can lead to colic, latching problems, sleep issues or other common childhood conditions. Chiropractic care does not treat those conditions specifically. Rather, we restore proper alignment to your baby's spine, relieving nervous system interference. When the nervous system is working, ideally, health issues can resolve on their own.
We use safe, gentle and effective adjusting techniques for kids. The best part? Infants and children tend to respond faster than adults because they don't have years of accumulated stress, which means they won't have to visit us as often-and they'll hold their adjustments longer!
Helping Nervous Children Express Better Health
Having three children of her own, Dr. Tricia is great with kids and will meet them where they are to make them feel comfortable. Some children like to lay on our tables for adjustments while others prefer to be held by mom or dad. If they're playing with a toy, that's ok-we'll work around it!
Some children may be nervous on their first visit. We'll let them play and soak in the sights and sounds of our office so they can get used to the surroundings and the doctor. If a parent or sibling is getting adjusted, we'll even let them "help" so they can feel like they're a part of the process. We'll wait for them to be ready for their first adjustment.
Book Today
Give your child the best possible start in life. Schedule pregnancy or pediatric care today by calling the office or using our online booking system. We can't wait to welcome you and your family into our care!
CONTACT US
---
Pregnancy and Pediatric Chiropractic Whitby, Oshawa, Brooklin, Ajax & Pickering ON | (905) 665-9599