About First Step Family Chiropractic
Our Mission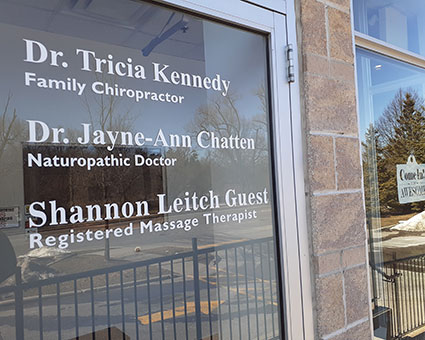 Our mission is to help everyone in our community reach their health goals so that they can express the best version of themselves. Whether through chiropractic care, massage therapy or naturopathic medicine, we strive to locate and address the root cause of your problem, rather than mask symptoms with drugs.
A Passion for Helping and Healing
Dr. Tricia Kennedy received her Doctor of Chiropractic degree from Canadian Memorial Chiropractic College in 2002. Over the span of her career, she's had the opportunity to work with patients of all ages and stages of life, which is why she's thrilled to welcome each and every one of her patients into her practice today.
Our clinic is a family practice, offering care for newborns, grandparents and everyone in between. We strive to give each patient the best care possible by being present and focused on their needs and finding solutions for their healthcare concerns.
Our Services
In addition to chiropractic care, we provide massage therapy, naturopathic medicine and acupuncture to help our patients achieve optimal wellness. Our all-female team includes Dr. Tricia Kennedy, massage therapist Shannon Leitch Guest, and naturopathic doctor Dr. Jayne-Ann Chatten.
MEET THE TEAM
Going Beyond Pain Relief
We understand your initial goal may be to get out of pain, and we are happy to help you do that! But we'll also strive to educate you about the things you can do to unlock your true health potential naturally and how to keep yourself feeling great.
Chiropractic care works to restore proper nervous system function. When your nervous system works as it should, and messages between your brain and body are communicated properly, your entire body can function at a higher level. We want every person we see to function exactly as their body was designed to, without pain or dysfunction.
---
About First Step Family Chiropractic | (905) 665-9599