Massage Therapy at First Step Family Chiropractic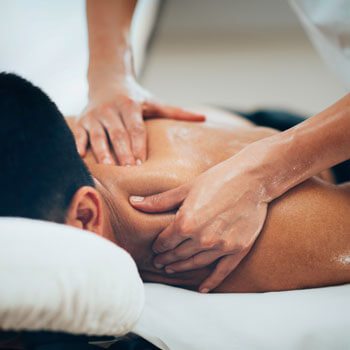 While massage is often considered to be a relaxing therapy that you'd experience at the spa, this type of bodywork has many other benefits as well. Here are some of the many that you may experience:
Relieves pain
Reduces stress and tension
Decreases anxiety and depression
Promotes overall relaxation
Improves posture
Massage Techniques
Our massage therapists are proficient in an array of techniques and will tailor the ones to meet your goals. The massage methods all involve working the muscles and other soft tissues of the body to improve the function of the systems of the body.
Craniosacral Therapy
Craniosacral Therapy (CST) is a gentle, hands-on method of evaluating and enhancing the function of the craniosacral system – which is comprised of membranes and cerebrospinal fluid that surround and protect the brain and spinal cord.
Using a soft touch, generally no greater than 5 grams, or about the weight of a nickel, practitioners release restrictions in the craniosacral system to improve the function of the central nervous system.
By complementing the body's natural healing process, CST is increasingly used as a preventative health measure for its ability to boost resistance to disease, and is effective for a wide range of medical problems associated with pain and dysfunction.
Easing Common Conditions
Migraine headaches
Chronic neck and back pain
Motor-coordination impairments
Colic
Autism
Central nervous system disorders
Orthopedic problems
Scoliosis
Infantile disorders
Learning disabilities
Chronic fatigue
Emotional difficulties
Stress and tension related issues
Fibromyalgia and other connective-tissue disorders
Temporomandibular Joint Syndrome (TMJ)
Neurovascular or immune disorders
Post-Traumatic Stress Disorder
Post-Surgical dysfunction
The craniosacral system (a physiological system like the cardiovascular and respiratory systems) provides the physical environment in which the brain and spinal cord develop and function. The light-touch technique works with natural and unique rhythms of our different body systems to pinpoint and correct source problems.
---
Massage Therapy Whitby, Oshawa, Brooklin, Ajax & Pickering ON | (905) 665-9599